Testimonials from Customers
Letters and pictures from our extended CavoodleLove family.
We've just started this new section, so please revisit us often as we add more thoughts and photos of our puppies in their new forever homes around Australia. We would love to add your testimonial here too!
Fletcher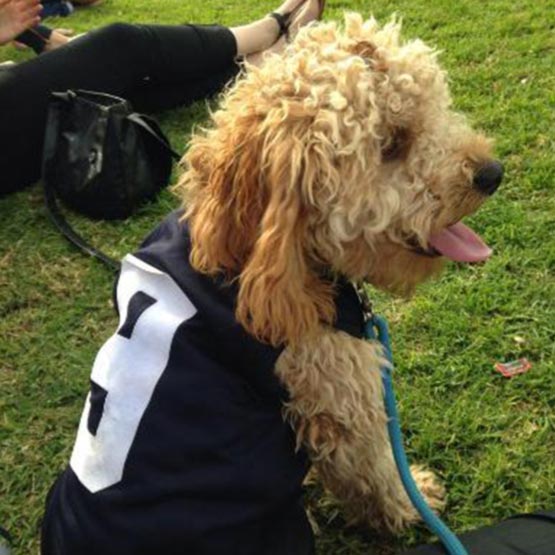 Hi Kerin,
Fletcher is now 5 months old and an absolute delight to have…. With the exceptions of the occasional accident inside! We're at that stage of thinking about getting him desexed …. I know when we picked him up from you we said we'd send pics… Sorry it's taken so long.

Hope all is well with you & yours. ?
Terri & Terry
Nelson
Hi Kerrin

Thought you might like to see our little Nelson, he's awesome!

Settled right in and doing great.

Thanks
Sharee
Ginger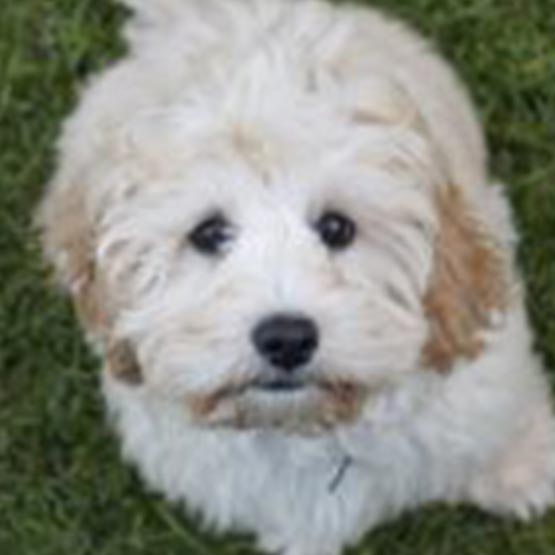 Hi Kerrin,

I thought I would just update you on our puppy's progress. She's been going to puppy preschool and proving to be a good scholar – she can sit on command, drop down and give a toy on command. She's chewed everything in sight, with a particular liking for my shoes – all the same we love her!

Nicki and Ben
Toffee
Our family purchased our first ever Cavoodle from Kerrin in August 2011. We called him Toffee and he has become one of the family.

He has a beautiful nature with a lively and inquisitive personality, he is very affectionate and is most often found at your feet following you around. He gets along great with our 4 yr old Maltese x Jack Russell and our two chooks who roam the backyard, his coat is beautiful and soft and doesn't shed. We can't imagine our family without Toffee in it!

I would highly recommend Kerrin if you are interested in purchasing a puppy.The whole process was enjoyable and Kerrin kept us informed of Toffee's progress with emails and photo's. If we ever purchase another puppy again we will definitely be contacting Kerrin.

Anne Gillie, NSW
Mr Golightly
I am the proud mother of the gorgeous cavoodle 'Mr Golightly'.

We adopted Mr Golightly, who was born on the 20th December 2009 from you in February 2010 and he has been the most loved member of our family ever since.

He is the friendliest, most well-behaved and most adorable puppy dog and receives endless compliments when we take him out and about. I wanted to share a couple of pictures with you so you can see the wonderful little man he's grown up to be!

Thanks for breeding such a perfect puppy!

Caitlyn Read (and Mr Golightly)
Teddy
Hi Kerrin,
I just wanted to touch base now it's been one year since we purchased our little fella from you. We proudly took home "Jaffa" (now "Teddy") from a litter born on the 1st June last year which Ruby and Richie were parents.

Teddy has turned out to be better than we ever expected, we really couldn't wish for a better dog. I'm sure I'm not telling you anything new when I say how well-natured he is, I guess it comes with the breed, needless to say we love him to death. We took him to classes and have continued to reaffirm good manners ever since.

Everyone loves Teddy. With the two of us both retired, we are fortunate that he is rarely on his own. He has been a wonderful addition to our family and I think he quite likes us too.

I have no doubt that the home environment you and David provided along with of course the lovely nature of Ruby and Richie as parents is a huge reason why Teddy has turned out the way he has. I thank you again, and wish you and David all the very best in the future as we need quality caring breeders like yourselves to continue.

Kind Regards, John
Howie
Hi Kerrin

It was Howie's first birthday yesterday. We are absolutely delighted with him and he delights everyone he meets with his beautiful looks and temperament.

He is extremely playful with both people and dogs and not afraid to stand up for himself which is great. He is also very affectionate and obedient except sometimes when it is time to go home, then he tends to go a bit deaf!

He has a doggy door so he comes and goes as he pleases most of the time but at night he sleeps in Nick's room. He loves going out anywhere and goes for a daily walk or play at the dog park and on Fridays his best friend comes over for most of the day (my sister's maltese). I am also home with him most days so we amuse each other.

Thank you for such a gorgeous addition to our family, we couldn't be happier and i'm glad that I waited for the right dog.

kind regards
Melinda, Nick and Georgia
Chester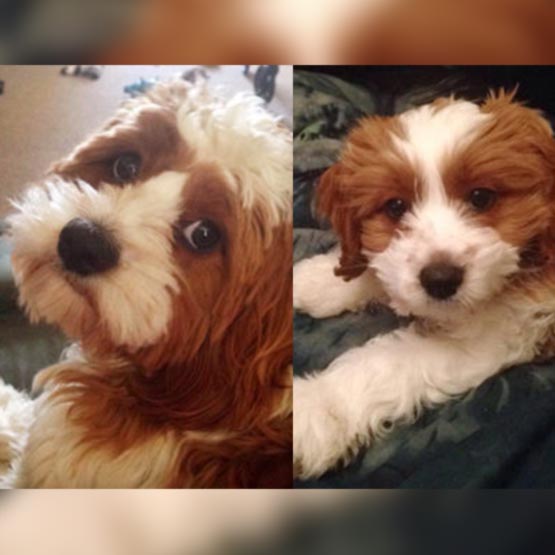 Hi Kerrin,

I hope you are all doing well. I thought I'd send you this email and some pics to give you an update on Chester who I bought from you last June.

I also thought you may wish to include this message on your Testimonials page. I'm always highly recommending you to people who are on the look out for a gorgeous little cavoodle!

I picked up Chester from you June 2016 and here we are a year later and I can't imagine my life without him! He's such an affectionate and intelligent little man, with so much personality! Definitely the best dog I've ever had the pleasure of owning. I wanted a sweet companion dog and Chester is exactly that and more. He just loves cuddles, playing and giving lots of love. He truly is the most sweet-natured little dog ever and so easy to train. He also makes me laugh all the time – so much personality and intelligence rolled into one little fluff-ball! I'm sure he thinks he's part human!

I firmly believe it has a lot to do with the fantastic environment he and all your puppies are raised in and from such well-loved parents who are treated so well. I'm sure that's why Chester is the wonderful little dog that he is. Thank you for being such a caring breeder of these gorgeous little dogs.

Take care,
Riet
Alfie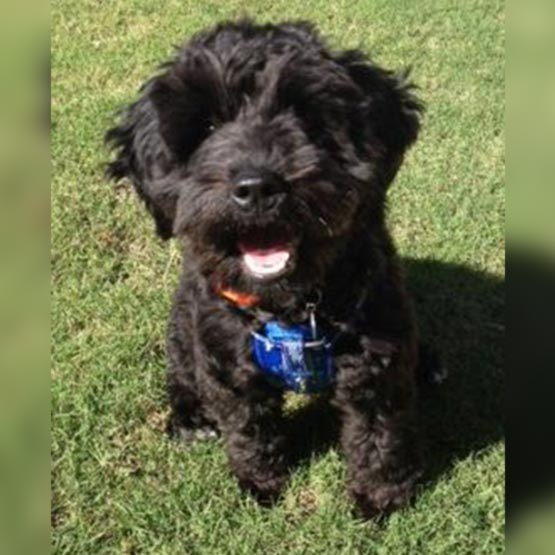 Hi Kerrin,

My partner and I have previously purchased a puppy from you. We fell instantly in love with our little man, named Alfie! He was a little red pup from Ruby and Richie litter and he is just about to turn 1! His funny little personality makes us laugh everyday. We often joke, that he thinks he is half human!

Both Ryan and I have had dogs before but both agree Cavoodles are the most gentle, beautiful, caring, loving natured dogs we have ever encountered. We find it hard to go anywhere without Alfie, he now has his own seat in the car and on the couch and when ever we do take him, the attention he receives is unbelievable. Everyone loves him! I have attached a couple of photos of Alfie for you. ?

We recently put our friends, Dylan and Alana onto you, as they were looking for a puppy for their 1.5 year old son, which they picked up just over a month ago. They are in love with little Cliffy also!

We were thinking that it might be time to add to our little family and were hoping you may be able to give us an update on up and coming litters. Look forward to hearing from you soon.

Kind Regards,
Carly
Billy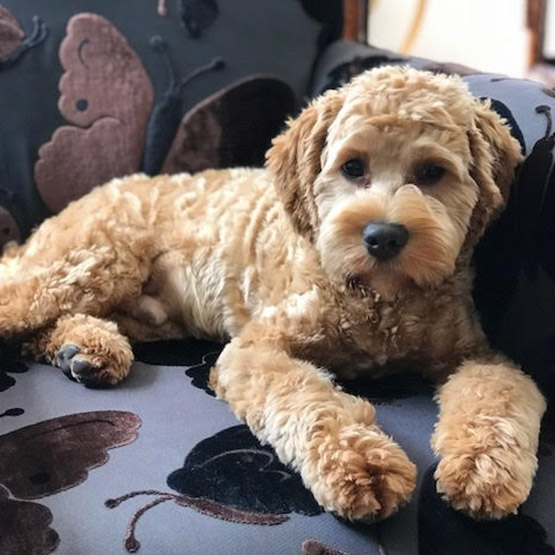 Hi Kerrin

Thought you may like an update from Billy. He is settling in well to HK and life as part of our family. He very much adored by us all. He is a really beautifully natured boy who loves humans and dogs alike. We are so glad he came to us.

Here is a recent photo. Such a handsome boy!
Kaye
Hi Kerrin,

What a totally awesome little boy! He had his first lesson with the assistance dog trainer on Saturday arvo and he was a little trooper. He got the idea real quick that sitting politely yielded treats.

Kaye is the wa assessor for dogs trained to assist people and also works with blind people and their dogs. So off to a great start and so very grateful.

Love Pam
Boston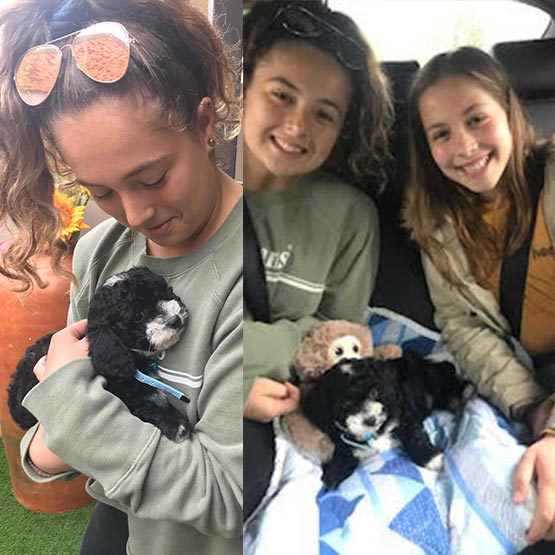 Hi Kerrin,

Just wanted to let you know our little boy Boston is settling in beautifully. A couple of cries last night but nothing of concern. He has been playing, eating, drinking, wees, pooping and sleeping. We just love him to bits! He has such a beautiful nature and we couldn't imagine life without him. Olivia (our youngest) and Boston are completely inseparable.

Thank you again for all your support and for raising such beautiful sweet dogs. To top it off the blanket and little care package you gave us yesterday meant so much and was really appreciated, again this shows how much you go above and beyond for your pups and families.

We will be in touch again to share photos( happy for you to use any of these pics for your fb) and I will recommend you to anyone who asks.
Thankyou ♥️

**Follow up**. He is doing so well at 11 months old and he is adorable.
We refer people constantly and tell them only to buy from you.
Thank you for giving us a beautiful fur baby
Molly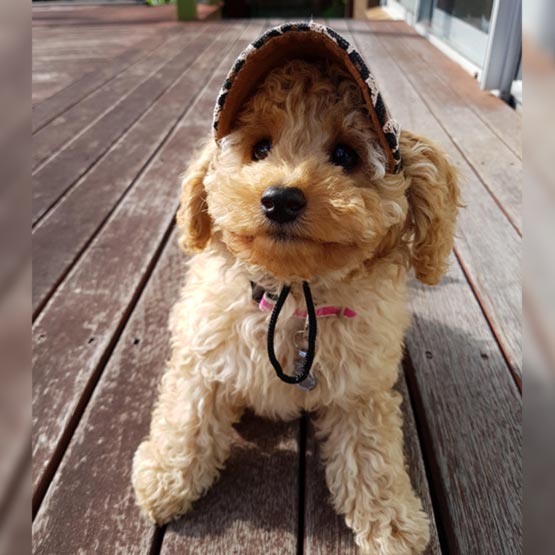 Hi Kerrin,

I would just like to say Molly has certainly lightened our lives & certainly put smiles on our faces with her funny little antics & headstrong ways. She is such a delight & certainly keeps me on my toes. When I take her for a walk it takes quite some time to get anywhere as everyone just loves her & wants to touch her & she of course just loves all the attention.

Our first day out walking at the local park the gardener asked to take a selfie with her.

I think I should start charging for cuddles & photos to top up my super. Molly is an important member of our family & Graham & I just adore her. Thank you.

Trish Thompson
Eva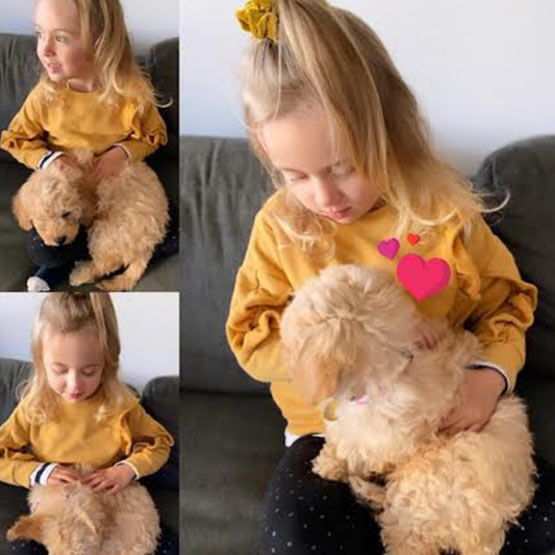 We cannot thank the girls at Cavoodle Love enough! About 1 week ago I put a deposit on a puppy the I thought was coming from a reputable breeder, sadly it was NOT. I did not purchase the puppy and was left with one very sad 4-year-old girl.

Which was when I contacted Cavoodle Love. Not only did Rach & Kerrin help us in a desperate time, but they also provided us with a beautiful HEALTHY puppy, that is identical to the original puppy Eva chose! Eva & Honey are now inseparable!
Ruby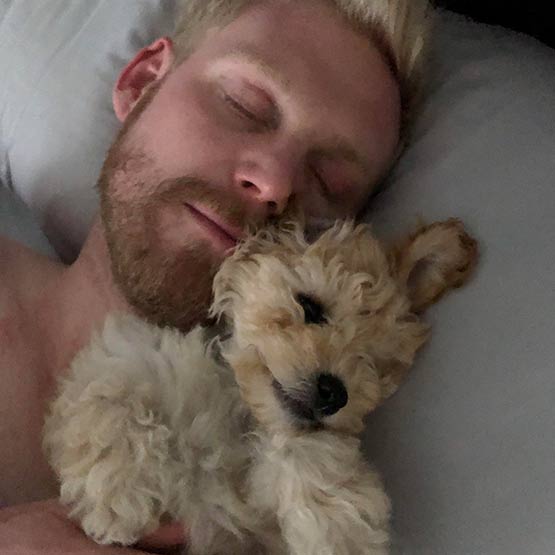 Hi Kerrin,

Just a quick check in, hope everything is well!

Ruby is one week into Brisbane life and we couldn't be happier with her. She is such a loving little girl. Here is a happy snap of her living her best life haha

Thank you again and we received the puppy pack on Tuesday :)
Mikey
Hi there,

My name is Tracy and almost 9 months ago my husband and I purchased a puppy from Cavoodle Love, and to be quite honest we are really glad we did.

I dealt with Rachel during the process, and received regular videos and updates of our puppy, a little girl we called Mikey. Payments were clear, the final one being after her vet check. When the day arrived to pick her up, we travelled to Cavoodle Love premises where we found it to be clean, tidy and hygienic..even disinfectanting our shoes as we entered.

Mikey was there with her bothers and sister, healthy and happy. We received a gorgeous puppy pack with food, toy, puppy pads, bowls to name a few things as well as loads of information about caring for our puppy including vaccinations, feeding and worming.

Mikey is a complete joy and we have Rachel and Kerrin to thank for that. In fact we are so happy we are going back in 2 weeks to Cavoodle Love...for another Cavoodle Love and playmate for our girl.

I'm sure you'll love your puppy as much as we do.

Kindest Regards,

Tracy
Marly
Hey Rachel and Kerrin,

We can't recommend Cavoodle Love enough!
Thank you Rachel and Kerrin.
The whole process was so exciting and effortless.
We loved that you took the time to get to know us and you made sure the puppy would be placed in a loving home (which she totally is).
Thank you for the updates throughout the early stages of her life and sending her safely to us!
Our Marly girl was born on 1st January 2020 and she joined us at the end of February and we were and still are smitten.
She is an absolute joy.
Smart, cheeky and so loving.
We are loving watching her grow and we can't thank you enough.
Thank you again we are so lucky.
Follow Marly's adventures on Instagram: @marly_cavoodle
Thanks so much ladies!!
We love Marly so much!
Jess and Joffrey
Ben
Cavoodle Love - Puppies Sydney put up the proposition of offering a puppy to a Police member as a result of the work Police do for the community. I saw this on-posted by Fighting PTSD Vicpol | Facebook and didn't think I qualified at the time as I had already been ill-health retired.
I could tell a zillion stories of my career, which lasted 35 years, 3 months and 28 days. But I'd rather bring attention to the unbelievable generosity of Rachel and Kerrin at Cavoodle Love.
The generosity of these people brings tears to my eyes. I have a long way to go in my recovery, a very long way, but for people like Rachel and Kerrin to donate puppies for a cause such as this, it just doesn't save one person, it saves families, friends and colleagues. I already have a colleague looking to buy from them. 
When Cavoodle Love put up the post I had no idea what it would create – three magnificent little puppies across three states. I don't know who exactly nominated me and what they said but I am so very grateful for their contributions. I picked up my little Ben seven weeks ago and already can't imagine him not being part of my life.
PTSD – I eventually did 35 years, 3 months and 28 days in Victoria Police. Ups and downs? Yes, constantly. The good well outweighed the bad but the bad – it sticks, in the mind and in everything you do.
I don't know where PTSD came from, but it hit me like a brick so suddenly. I had seen many things that I hope the average person never needs to see. And neither they should, that was our job, not yours.
I am also signing my massive beast Ben, all 1.5 kg of him, to an assistance/companion program, a not-for-profit organization Support and programs for serving and ex-serving military personnel and their families - Young Diggers to help me when I feel down.  As soon as I mentioned this to Cavoodle Love – guess what? A donation of another beautiful puppy. Just so generous, and a disclaimer I have never known of them prior to getting little Ben!